Rome was not built in a day, but when it was finally built, each structure illustrated the chronicles of the empire.
Manhattan, Paris, Japan, Singapore, Barcelona, Lucknow are perceived as characters that preface the overall vibe of the city. So, what does personify these cities?
Architecture is a medium of narrating a story, depicting the philosophy and politics of the city, and caching the history of that era.
From Mughal monuments to Rajput Palaces; from Maratha forts to Colonial establishments, India has experienced luxury architecture in different phases and with different connotations.
The British influence in South of Mumbai was the first phase of luxury architecture in an urban landscape that facilitated the way we perceive this area. Rendered as a business district, a majority of luxury projects in Mumbai are concentrated in these locales.
However, one anomaly in this precinct that offers a unique take on architecture is Dadar– a locale that retained the traditional and adapted the contemporary. Property in Dadar East is a perfect foundation for premium residential projects in Mumbai owing to the trifecta of accessibility, connectivity, and feasibility. According to the Moneycontrol report, 67% of HNIs have voted in favour of investing in Luxury properties in Mumbai in 2022, leading to an uptick.
On this bullish note, let us explore the key attributes of a "luxury residential property" with reference to Island City Centre that has redefined the Dadar Skyline–
Iconic Elevation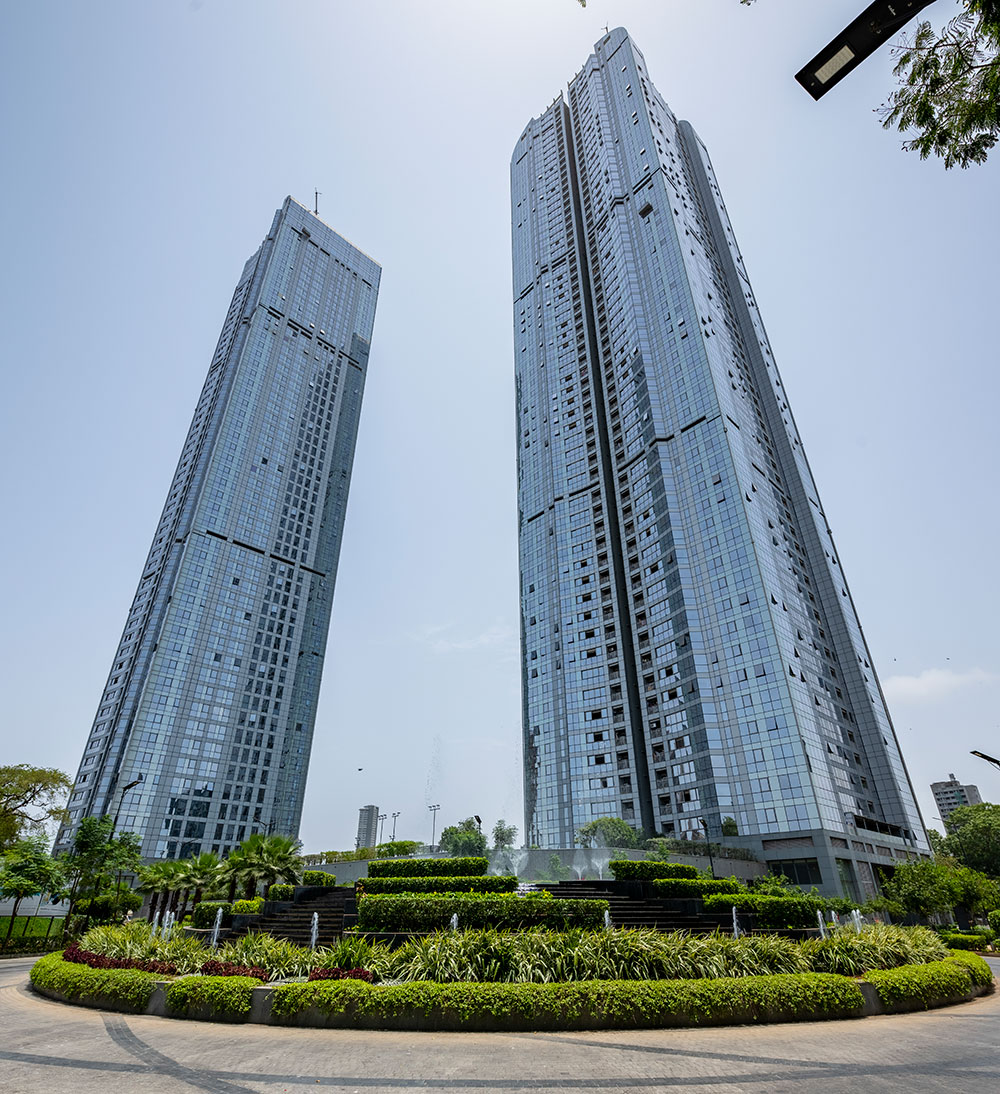 Highrises are an aspect of opulence. Construction cost, security compliances, maintenance, and other factors accounted for valuing such projects higher than normal structures.
Manhattan skyscrapers are the synonyms for affluence. Exuding a similar essence in Dadar, the Bombay Realty ICC towers stand tall as superstructures of 65 and 59 storeys. The panoramic view of the city silhouette, Sea link, Mahim Bay, eastern harbour and the mountains afar are the bespoke privileges. Such placement allows a distinct view from each room of the 4 BHK apartments in Mumbai.
Exterior Architecture Design
Apart from serving a definitive purpose, a structure also adds to the beauty of the landscape. Dubai is a classic reference for state-of-the-art architecture that renders it an eternal opulent city. That glazing exterior is the modern-day depiction of luxury, viz. Burj Khalifa.
The Glass Facade overlay of ICC towers exemplifies the said opulence. This aesthetic is an embellishment to the beautiful landscape of Dadar!
Such facades also present benefits such as energy efficiency, varied transparency, strength, security, and cost-effectiveness(with respect to power consumption).
Tower lighting is another aesthetic appeal mastered by Shanghai structures. The true virtue of ICC Mumbai is highlighted with these tower lightings.
Apartment Layout
The placement of both towers enables various options in floor plans:
For One ICC, the L-shaped structure presents a unique layout that offers more carpet area, wide passages, and swift access to rooms. Plus, there is an en-suite bathroom with an additional powder room. Owing to this layout, there are four dispositions of choice of view: North & West, South & West, North & East, and South & East.
For those who prefer a more linear structure, Two ICC apartments have a simple yet coherent layout for optimum use of carpet area. This tower offers six different dispositions in views: North & West, South & West, North & East, South & East. just North, and just South views. There is floor to beam glazing across the living room.
In both cases, there are separate staff rooms in these 3 & 4 BHK apartments in Mumbai, with direct access to the entrance foyer and kitchen.
Avant-Garde Interiors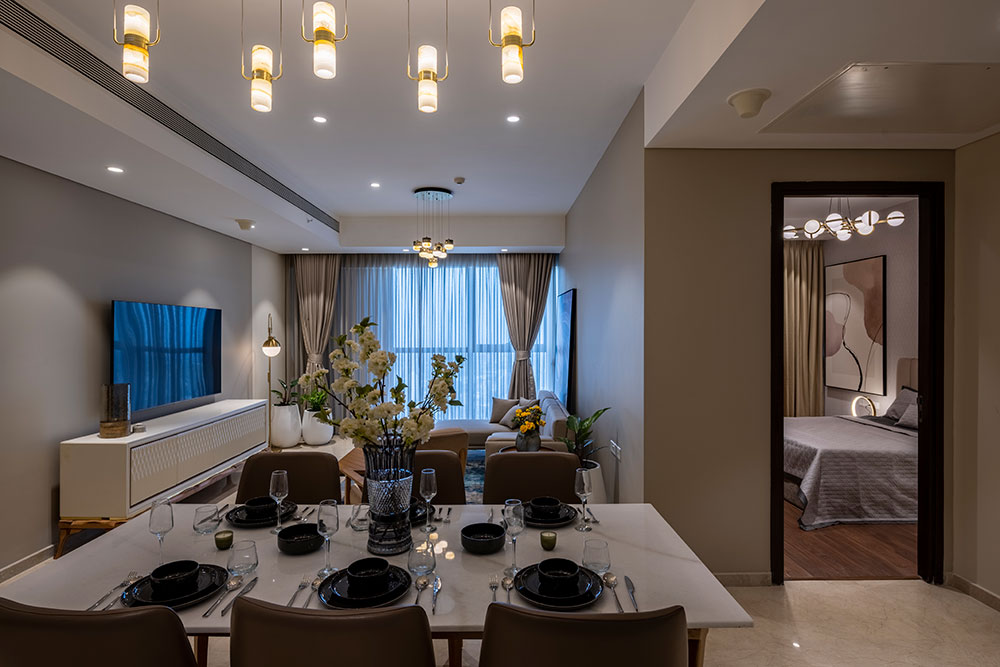 A prominent differentiator for a lavish apartment is the interiors. Even before you customize it to your style, there are a few prior installations that need to be incorporated to complement the apartment. ICC apartment has been designed intricately, assimilating the latest trends in interiors such as-
The modular kitchen is designed with international flair and advanced provisions to incorporate smart technology.
Sanitary and CP fittings are particularly selected from an international range that are both efficient and elegant.
However, the apartment simply stands out due to the contemporary marble and wooden flooring, from international brands.
Technology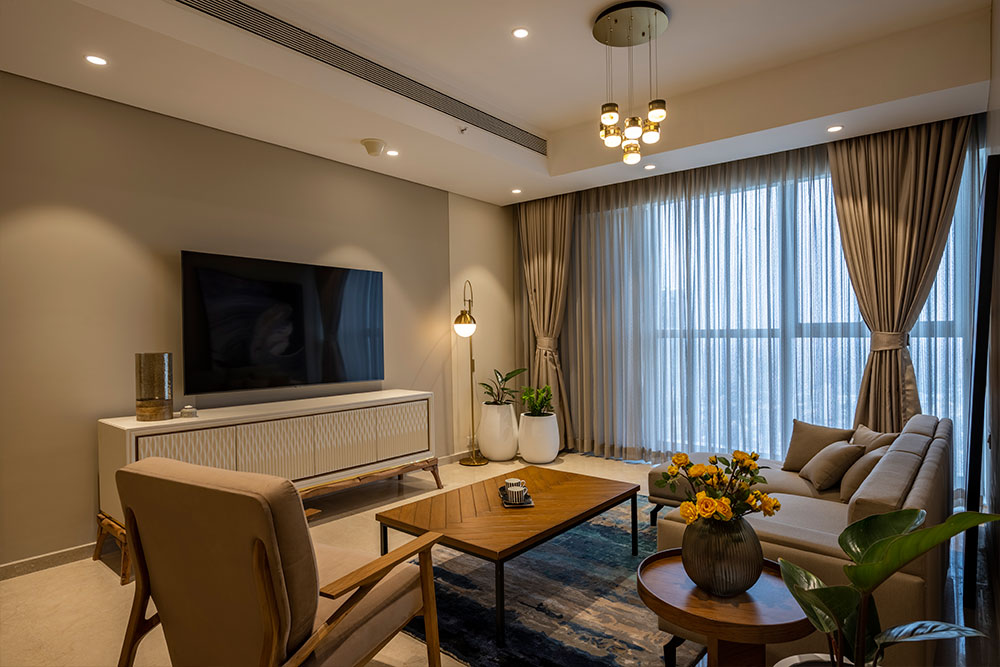 The mechanical air ventilation system circulates fresh air around 10-12 times within an hour throughout the apartment. The concept of VRV technology assures high air quality at your home.
Keeping up with the technological advancements, provisions are made to install your home automation system.
Configurations
Bombay Realty is proud to present that the ICC configurations offer the most carpet area (calculated with RERA standards) among other projects with the same category ticket size–
One ICC offers 3 BHK apartments of 1955 sq.ft and 4 BHK of 2488 sq.ft.
While Two ICC offers 3 BHK of 1611 sq.ft and 4 BHK of 2070 sq.ft.
In Conclusion:
Even though luxury is a subjective concept, trusting a brand name that understands the execution is a way to ensure the opulent lifestyle you deserve!