Bruce Schneier ( titled "Security Guru" by The Economist ) has articulated its need by stating that "Security is not a product, it is a process". While he meant this for cyber security, we can also apply this for security in general– for a security system to work efficiently, we need to prepare the environment to be conducive.
Japan, Korea, and Western countries have already implemented a digitalized security system its in housing and infrastructure projects. This has not only helped in identifying the perpetrators but also dissuaded them, thus reducing the crime rates.
The other aspect of secured living space is to implement preventive measures for unforeseeable circumstances. Maharashtra RERA has imposed compliances regarding the structure of the building to ensure safety of its residents. Only after inspection is the Occupancy Certificate-OC and RERA certificate issued by the authorities.
Barring these general regulations, several real estate developers in Mumbai have incorporated additional security systems throughout their projects as it is also considered a USP by home buyers.
To get an insight into these modern technologies, we shall examine Bombay Realty properties in Dadar on how to secure a luxury residential property at various points–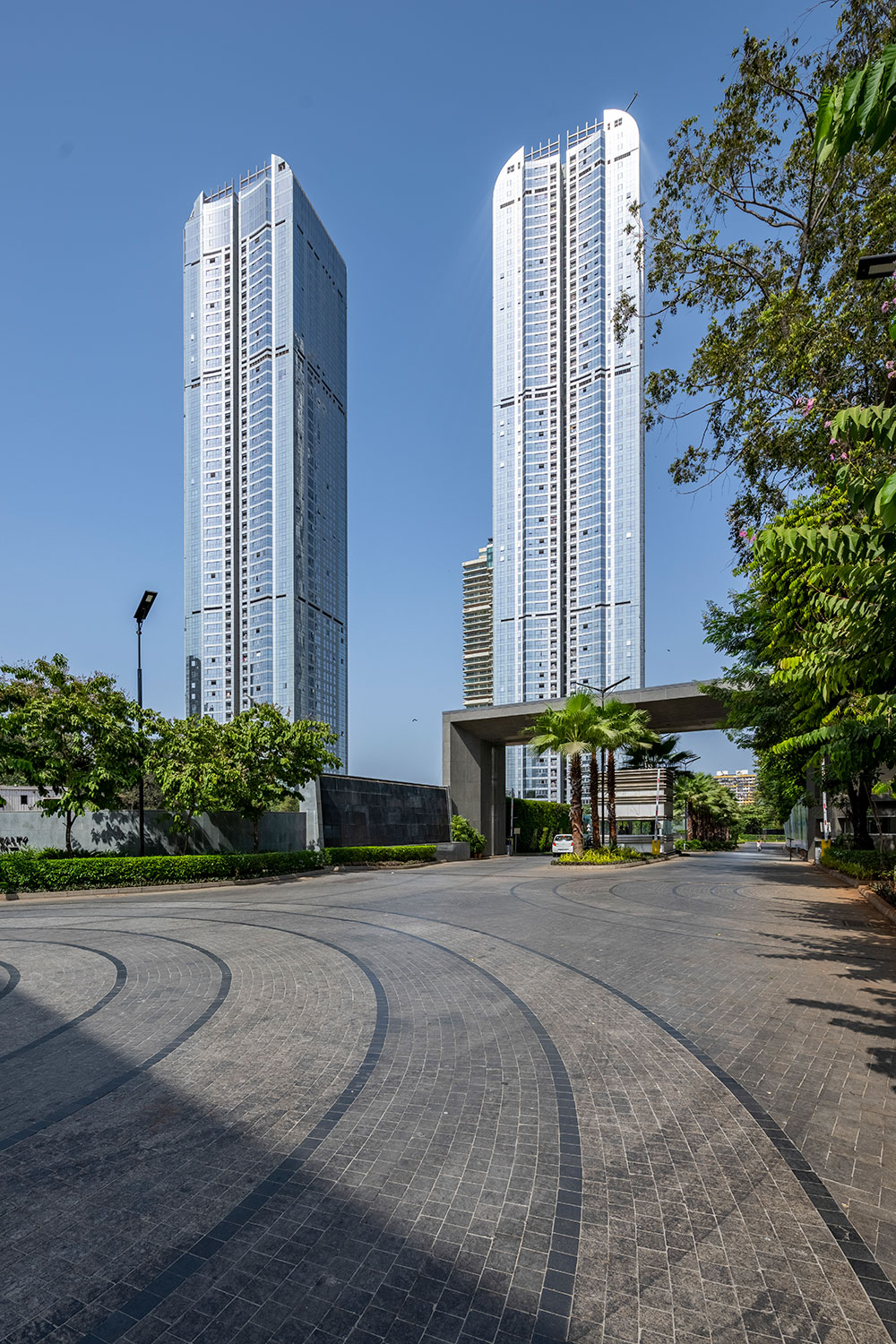 Security
Security command center
400 CCTV for 24x7 surveilance
Video-door
Access Control restricted entry for service staff & visitors
Tyre killers
Boom barriers
RFID access system
Motorized lockdown Gates
Night gates
Command Centre
Entrance portal with security cabin
Radio Frequency Identification RFID
The premium residential projects in Mumbai have a common issue of tracking the frequency of vehicles that enter the premises. A technology that has revolutionised in fast and efficient tracking of vehicles is RFID. While the inner mechanism is too technical to grasp, consider it similar to that of a barcode scanner. But instead of the requisite of placing objects in the line of sight, RFID uses radio frequency that allows detection of objects moving across larger distances.
The RFID reader scans the RFID tags and stores the information. Another indirect application of this mechanism is that the security guards are alerted beforehand of any unwarranted vehicle trying to trespass.
Access-Control Restricted Entry
When one is looking for 4 BHK luxury apartments for his family , the primary concern is how secured is his family.
Considering luxury projects in Mumbai, a plethora of amenities, common spaces, and welfare centres are included in the complex. Access control is the most reliable technology to ensure that the residents can enjoy these privileges safely.
Safety Protocols
After securing the first tier, the next tier is physically securing the premises. Certain protocols are abided by during emergencies and for precautions –
Security Command Centre
Investing in human capital is the best defence against security breaches. Bombay Realty has deployed professional security services to ensure proper safety of its residents. With a technologically advanced security command centre, all the daily activities are monitored. Since 24/7 CCTV cameras are installed throughout the complex, the footage and other data are managed at this centre.
State-of-the-art Fire Safety Provisions
For Island City Centre Dadar, Bombay Realty has collaborated with Olsson Fire and Risk UK ltd to provide advanced solutions for fire safety:
The mechanically assisted Ventilation system provides optimum smoke protection
For dire emergencies, evacuation lifts with DG power backup are installed. Also, separate fireman lifts are provided for quick accessibility.
The fire and smoke curtains installed in the lobbies ease the process of arresting fire well within time. Modern Sprinkler Systems are installed for quick extinguishment.
Safety systems
Building Management System
State of the art fire safety Systems
Fire-rated walls that separate each apartment & kitchen
Fire isolated stairs and lobby/ each floor with pressurisation to eliminate smoke
Jet fans in the parking
Smoke/ Heat Detection & management systems
Use of safety glass for facade - toughened glass
State of art integrated fire announcement system
Other Miscellaneous Measures
While the lockdown guidelines have advised for minimal contact, ICC has already adopted a covert system where the staff is provided with separate service lifts, lift lobbies and separate service entrances.
The frequent maintenance and Building Management System ensures that all the structures within the complex are sturdy and functional.
The double glazed windows of the 3 BHK luxury flats in Mumbai offer several benefits such as better insulation, noise reduction, eco-friendly, easy maintenance; but most importantly, they provide a great barrier since such glasses are impossible to break in– providing optimum security.
Key Takeaways
Investing in professional services is a long term asset. For uncertain times, these services are a necessity for every residential complex.
Multi-tier security ensures a robust security system.
Facility management is a consistent function.