Are you ready to escape the ordinary lifestyle and the hustle and bustle of daily life? Island City Center is where you can relax, unwind and enjoy luxurious amenities – all in a stunning tropical oasis. Whether you're looking for an exclusive getaway or just time for yourself, ICC Mumbai has everything you need for a truly unforgettable experience. So come, treat yourself to the luxury of total leisure – it awaits at Island City Center!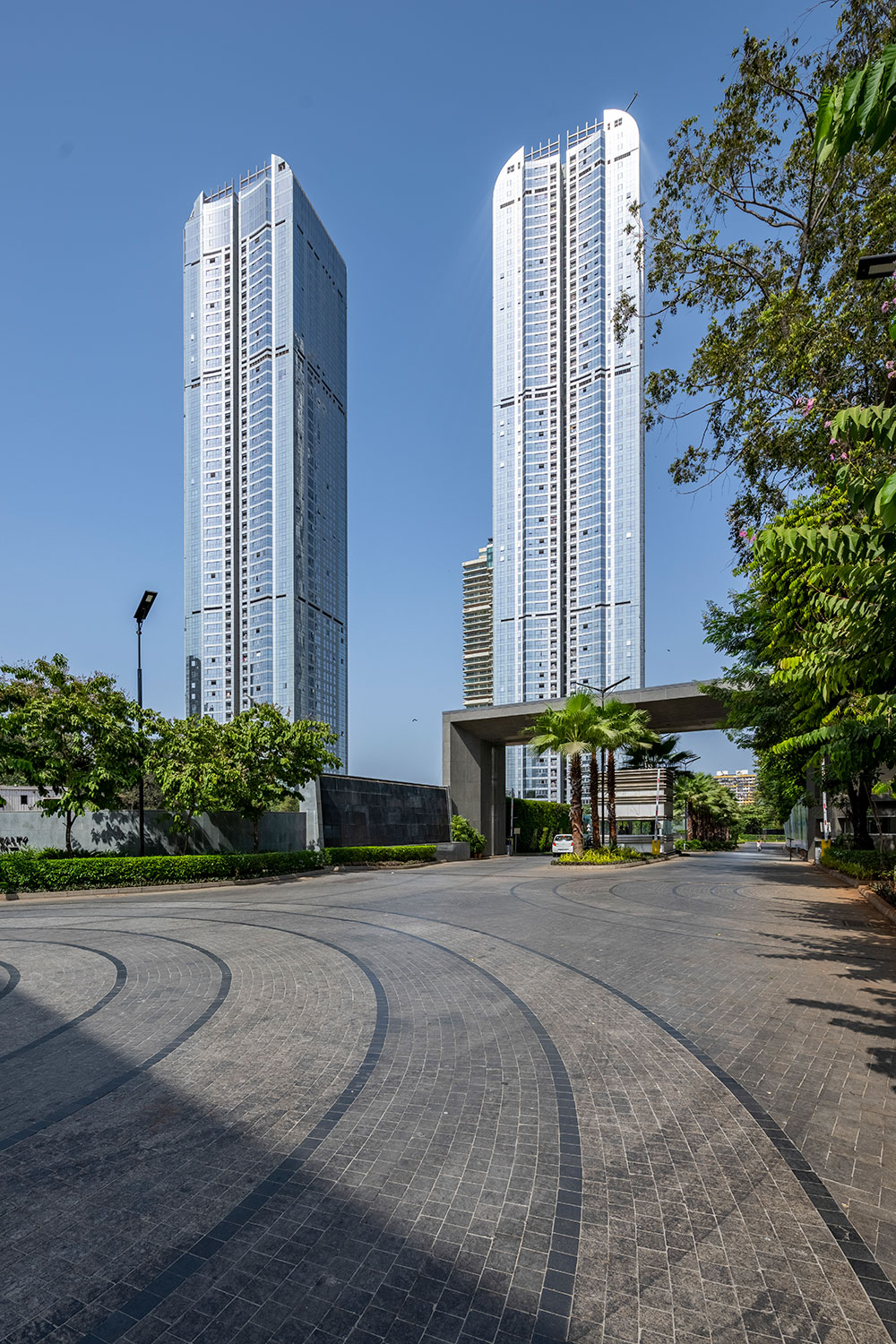 High-End Design and Quality
Island City Center (ICC), one of the finest real estate projects by Bombay Realty, is a world-class destination located in Dadar East, Mumbai. With its mesmerising views and luxurious amenities, ICC towers offer a unique lifestyle that few can dream of.
For high-end luxury seekers, the magnificent architecture of these 4 BHK apartments in Mumbai makes them feel like a resort. These premium residences offer world-class utility spaces with delighted designs and bespoke finishes crafted to perfection. Moreover, residents can relish their leisure with transcendent views. Both buildings have double-glazed glass exteriors that significantly reduce the heat flow either way. All our Ready-To-Move-In 3 & 4 Bed Luxury Condos are equipped with en-suite bathrooms and an additional powder room in One ICC. At the same time, the bedrooms and kitchen alike offer breathtaking views through the glass facade.
At ICC Mumbai, all modern amenities for everyday needs are within your reach, such as commercial retail space, planned green spaces, a jogging track, and more to come along with 24x7 security systems providing residents with a sense of comfort and convenience at all times.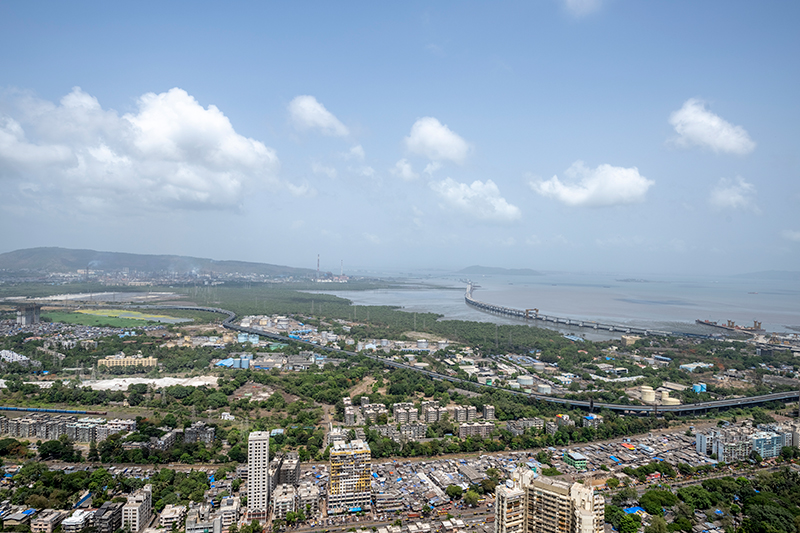 Stunning Sea View
The unbeatable convenience of these properties and their gorgeous sea view make them an ideal place to sit back and relax while enjoying some peace and quiet. From your glass facade apartment, you can admire the mesmerising horizon of a sunrise over the shimmering ocean and experience a twilight nightscape with unparalleled skyline views.
Everything about ICC 3 & 4 bhk apartments in Mumbai, including architecture, lifestyle amenities, social infrastructure, and more, has been carefully crafted to offer premium experiences from every aspect.
Detailed Finishes
Those craving a luxurious lifestyle can truly experience it at Island City Center. Every detail has been considered in the finishes in order to create these majestic towers, making it one of the most sought-after luxurious 3 and 4-bedroom residences at Dadar, East Mumbai.
The luxurious lifestyle apartments have been designed keeping in mind even the minor details so that residents can experience absolute leisure at home. The 4 BHK apartments here boast modern amenities and contemporary designs that make your home a paradise. But there are also endearing touches that make it decidedly different from other premium residential projects in Mumbai.
High-End Amenities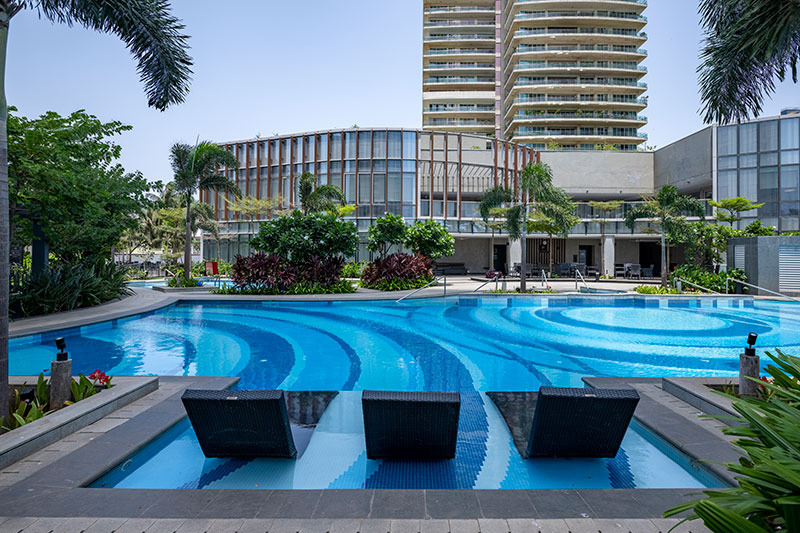 At Island City Center, Luxury meets convenience to provide an unparalleled living experience. As part of Bombay Realty's premium and luxury residential property in Dadar East, our 4 BHK apartments bring class and style to your living space. From 40+ top class amenities like a state-of-the-art gymnasium and swimming pool to tech-enabled secured & fire safety features have been provided for both comfort and security to the beautifully landscaped garden areas, Island City Center is everything you would want in a luxury property.
The ICC Mumbai offers you 40+ lifestyle amenities. What makes us stand out is the abundance of leisure options that we provide at Bombay realty ICC towers. Our two full-service saunas, steam, and massage rooms are perfect for unwinding after a long day. For sports enthusiasts, table tennis, billiards, a skating area, a tennis court, a half basketball court, a cricket net, and a swimming pool are always available.
The absolute sense of Luxury associated with ICC Mumbai extends beyond its exteriors; within the apartments lies world-class interior designs inspired by contemporary themes and abundant natural light through substantial glass facade apartments. We have carefully curated each design element to create an environment ideal for comfort and unrivaled pleasure through complete leisure, all amidst the hustle and bustle of one of India's largest cities!
Prime Location for Seamless Connectivity
Located in the heart of Mumbai at Dadar East, Island City Center is the perfect place to indulge in a bit of living therapy. With world-class shopping, dining, and lifestyle outlets nearby, one is spoilt for choice when choosing what to do.
Siddhivinayak Temple is only a 10 min car drive from our ICC Towers. For those interested in retail therapy, the Phoenix Palladium is just a 15 mins drive away. You can take the Western Express Highway for a beach day at Juhu Beach.
When it comes to dining, Dadar East has something for everyone. You'll be spoilt with your pick of the lot when it comes to cafes, fine-dining restaurants, or heritage eateries.
So regardless of your choice or vibe, Island City Center luxury residential property is your ideal address that wipes away boundaries between absolute leisure and extensive connectivity!
Conclusion
Combined with flawless completion timelines and advanced technology solutions, ICC Mumbai guarantees perfection and fulfilment. Suppose you are looking for an elite property that can provide a living platform larger than life. In that case, your destination ends here at Island City Centre – "Where Luxury knows no Boundaries."
FAQs
What documents should I have ready to initiate and complete the booking process etc.?
Sale Deed, NOC from Government Departments, House Tax receipt, Payment Receipts, Documents About Existing Loan, Agreement to Sell.
What are the RERA numbers for these projects?
Project RERA No. P51900008726
What kind of homes is available here? Just apartments or more?
Ready-To-Move-In 3 & 4 Bed Luxury Condos are available in Bombay Realty ICC Towers.
What are the Good amenities of the project?
Indoor Gym
Two Sauna Rooms (Separate facilities for women & men)
Two Steam Rooms (Separate facilities for women & men)
Two Massage Rooms (Separate facilities for women & men)
Two Squash Courts
Indoor Games Room
Card Room
Business Center & Study
And so much more.